Frequently Asked Questions about Casey BMW Valet Service:
What is Casey BMW's Valet Service?
Here at Casey we realize how difficult it can be without a means of transportation. When it comes time to service your car you may choose to have our team here at Casey BMW drop off a loaner vehicle to your home or business. Our valet driver will swap your vehicle with one of our loaner cars and bring your vehicle to our dealership for service. When the service is complete, we will deliver your vehicle back to your door. We offer Valet Service for many communities within our market. Ask one of our BMW representatives to see if your area is covered.
What is the cost of our Valet Service?
Our Valet Service is complimentary for the duration of your new vehicle's 4-year/50K mile factory warranty, CPO 6-year/100K mile warranty, as well as BMW ultimate service coverage or any BMW currently under an extended service contract.
How do I request Valet Service?
Contact our service department at 757-989-1300 when you need an appointment and let them know that you would like to utilize our Valet Service. Please realize you will need to request the Valet Service at least 2 weeks in advance to ensure availability and proper scheduling for a loaner car.
What type of vehicle will be provided?
We will make every effort to provide you with a BMW loaner car (however not necessarily the same model as you may drive) when you have scheduled your appointment in advance. Occasionally, due to high service volume you do have the option to bring your vehicle in and utilizing our rental car program if a loaner is not available.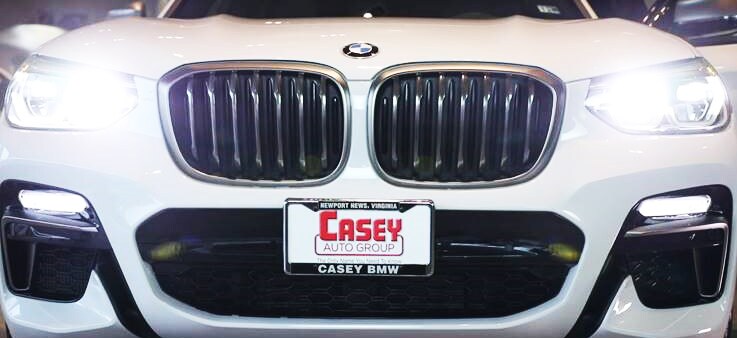 Is Casey's Valet Service available year-round?
Yes. The Valet Service is available during service business hours.
Is all service work available for the Valet Service?
Only regular scheduled maintenance as determined by the service level indicator (refer to owner's manual) qualifies. Owners of all 6 series, 7 series, X5 5.0, X, 550 and all other M brand models are provided valet service for all service needs with the exception of collision repairs.
NOTE: No loaner vehicles are available for work performed at Casey's Collision center. Please refer to your insurance policy for coverage concerning loaner cars in the event of an accident.
Our insurance liability restrictions require that the vehicle owner or person receiving the vehicle must be at least 21 years of age. The owner or owner's agent must provide a valid driver's license, current proof of insurance and a credit card before we may release the vehicle, they must also present when returning the vehicle. Smoking is not permitted in the loaner vehicles. You will also be asked to replace any fuel used.